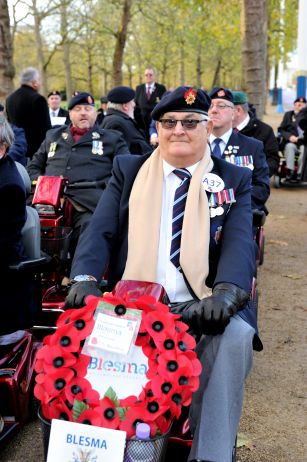 Remembrance Sunday: BLESMA Members remember
Once again Electric Mobility is proud to support the British Limbless Ex-Service Men's Association (BLESMA) for the 14th year running at the November 2017 Remembrance Parade at the Cenotaph by providing Rascal 388 S, and Rascal 388 Deluxe Mobility Scooters for the Veterans.
As with most years, some 40 BLESMA Members took part in this years' service. This year consisted of 20 Members on Mobility Scooters, along with the walking wounded, widows and carers behind them.
Crowds packed into central London for the annual Remembrance Sunday tributes to those who have fallen, hundreds of more modest ceremonies were taking place in villages, towns and cities across the UK.
As Her Majesty The Queen watched from the balcony of the Foreign Office, HRH Prince of Wales joined fellow Royals, leading politicians and senior members of the armed forces and high commissioners from across the Commonwealth in laying wreaths at the foot of the Cenotaph in London.
The Parade marches down Whitehall, along Birdcage Walk, on to Horse Guards for the Royal Salute. The participants will disperse around midday.
The Remembrance Day is a memorial day which has been observed in Commonwealth countries since the end of World War I to remember the members of their armed forces who died in the line of duty. It is observed on 11 November to recall the end of hostilities of World War I on that date in 1918.
The first such Day was held at Buckingham Palace and was hosted by King George V during the evening hours of November 10, 1919. The first official Remembrance Day was subsequently held on the Grounds of Buckingham Palace on the Morning of November 11, 1919. This would set the trend for a day of Remembrance for decades to come