Update on tax discs for Class 3 Mobility Scooter owners!
01 October 2014 sees the end of the road for UK Tax Discs
Most of you will or should already know that last December it was announced that this year will see the end of car tax discs in the UK. This will officially happen on the 1st of October, signalling the end of little rituals such as removing the circular tax disc from its square perforated paper and then trying to not only fit it into the disc holder, but attempt to get that disc holder to stay on the windscreen.
This little piece of paper has been used since 1921 but is now to be extinct as all car tax records will be done digitally on databases. Visual checks on tax discs are very rarely done these days, in fact dropping by 75% in the last three years.
How does this affect Mobility Scooter or Powered Wheelchair owners who register their vehicle?
To meet the current legal requirements for Class 3 mobility scooters & powered wheelchairs, if you purchase a scooter or powered wheelchair capable of speed above 4mph and with a maximum speed of 8mph for road use, you must register the scooter with the local DVLA office. From 01 October 2014, the process for registering and applying for a "free" tax disc remains the same. The only change is that the owner will not receive a physical disc to display so the DVLA are advising that all users should carry a note of their registration number with them in case they get stopped by the Police.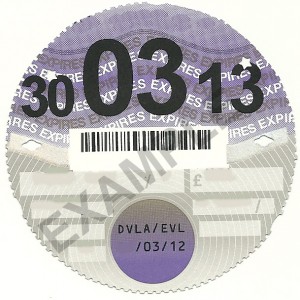 Can they still tell who has not paid Car Tax or registered mobility scooters?
Yes, one of the main reasons for the change was due to the fact that the amount of visual checks performed by both the police and DVLA has dropped dramatically in the past five years. This is simply because databases easily flag up those that have not paid road tax or registered mobility scooters and the police can easily check through the use of number plate recognition cameras.This has led to there really being no point in having a visual disc on cars anymore and the potential for some big savings to be made.
A mobility scooter or powered wheelchair is exempt from vehicle tax, however the owner still needs to apply for a tax disc for the vehicle and renew the application annually, even if they don't need to pay vehicle tax or display the 'nil value disc' on the scooter any longer under the new regulations from 01 October 2014. For further information contact the DVLA or visit the website https://www.gov.uk/vehicle-exempt-from-car-tax
So What Does This Mean?
It means that there are going to be substantial savings on the admin costs regarding car tax, around £7 million apparently. Some of this will even be passed down to motorists, with the previous additional 10% being added to the amount for drivers that opt to pay every six months being dropped by 5%.
It will also mean far less hassle as the whole system is being modernised. Motorists will now be able to pay by direct debit, meaning no lengthy waits at the post office and the ability to pay small amounts each month rather than larger sums every 6 or 12 months.